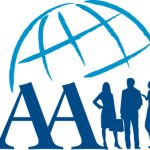 This year's European Regional Alumni Conference (ERAC) took place on July 7th-10th in Bacharach, Germany. Here AIESEC Alumni in Europe, represented by Peter Mandl signed two new collaboration agreements with AIESEC Alumni Belgium, represented by Jan Peeters, and AIESEC Alumni Portugal, represented by Anabela Matos. By doing so, we have agreed to work together to develop and strengthen the AIESEC Alumni community in both Belgium and Portugal, and within Europe.
Specifics of the collaboration will include working on the promotion of AIESEC Alumni activities, the facilitation and experience sharing of best practices, the organization of Regional Alumni Conferences and events and any other activities which will promote the alumni network.
We look forward to a fruitful collaboration!
      Anabela & Peter
       Jan & Peter
//aiesec-alumni.eu/wp-content/uploads/2017/11/AIESEC-Alumni-Logo_europe-300x82.jpg
0
0
Christiane Stein
//aiesec-alumni.eu/wp-content/uploads/2017/11/AIESEC-Alumni-Logo_europe-300x82.jpg
Christiane Stein
2016-07-30 13:05:54
2016-07-30 13:03:05
Two new European entities are collaborating with AIESEC Alumni Europe