In Mid-November, 20 leaders from 9 European countries met in London, UK, for the StepUp conference of AIESEC Alumni Europe. The goal was to get-to-know each other, work on the planning of the NAAs and decide on the new Alumni Theme Programme.
The delegates arrived on Friday and enjoyed great discussions during drinks and dinner. This continued Saturday evening with a Warehouse Party with several more alumni from London.
After an introduction on Saturday morning, the countries worked on their planning and presented the highlights to group: more members, more activities, more impact. Among the event highlights for 2018 are
the WU Ball by AAAustria (13 January 2018),
the ERAC & National Alumni Conference by AABulgaria (10-13 May 2018)
the AIESEC & Alumni Rhine Cruise by AAGermany (28-30 September 2018),
the WOWcheWeekend by AAItaly ( May 2018) and
the International Start Up Meeting by AAUK (9 June 2018).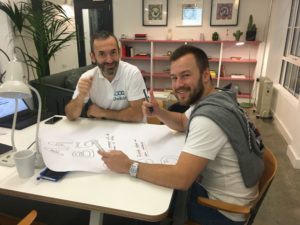 The afternoon was dedicated to the Alumni Theme Programme (ATP). In the past two years, a handful of projects took place in Austria, Germany and Italy to the theme "Intercultural collaboration – through education and sustainable economy". After the theme was closed, the new ATP Manager Angelique Russo presented different projects linked to the United Nations' Sustainable Development Goals (SDG) and presented the results of a survey on the goals. AIESEC Alumni care most about SDG#4 "Quality Education", SDG#16 "Peace and Justice" and SDG#1 "No Poverty".
Angelique Russo – ATP Manager
The discussion on a new theme lasted for several hours and in the end the participants chose "Break out of the Routine" as the new Alumni Theme Programme. AAE says that "we have a positive impact on the world by continuously improving ourselves, our society and our environment. We challenge the status quo. Our actions are meaningful and we change our perspective.  We give back our knowledge and experiences to leverage the network. With our contribution we inspire youth AIESEC, AIESEC Alumni and the communities in Europe."
//aiesec-alumni.eu/wp-content/uploads/2017/11/AIESEC-Alumni-Logo_europe-300x82.jpg
0
0
Christiane Stein
//aiesec-alumni.eu/wp-content/uploads/2017/11/AIESEC-Alumni-Logo_europe-300x82.jpg
Christiane Stein
2017-11-17 23:34:41
2017-11-17 23:34:41
StepUp Conference 2017